Anesthesia's Experiment

'

Alignment

Heel

Dynamic

Positive
Anesthesia's Experiment
is one of the official Tag Teams that appear in
Rumble Roses XX
.
It is comprised of Dr. Cutter and Lady X- Subsistence to compete with the other teams for the Tag Team Championship title.
Team Overview
Edit
Team Dynamic
Edit
Double X Move
Edit
Triple Submission
A special tag team throw that can be performed while facing a team's opponent's head when they are lying on their back. Only the team of Dr. Anesthesia and Lady X Subsistence can execute this move. Lady X Subsistence starts off the double team move by applying a figure-four necklock on its opponent. As Lady X Subsistence chokes out the opponent, Dr. Anesthesia applies a figure-four leglock. After Dr. Anesthesia locks in the submission hold, Lady X Subsistence grabs both of the wrestler's arms, detaches its body and crosses the arms together, applying a straightjacket submission.This is the only Double-X move where three different submission holds are applied at once.</p>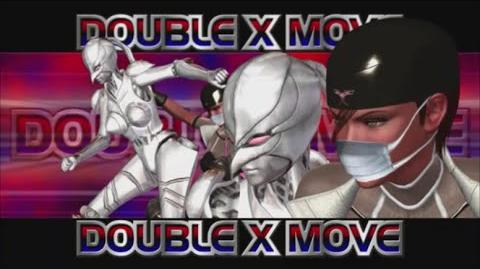 </p>
Entrance
Edit
References
Edit
Ad blocker interference detected!
Wikia is a free-to-use site that makes money from advertising. We have a modified experience for viewers using ad blockers

Wikia is not accessible if you've made further modifications. Remove the custom ad blocker rule(s) and the page will load as expected.